Custom Printed Magnetic Lid Boxes – Get A Quote
Custom Magnetic Lid Boxes – Get A Quote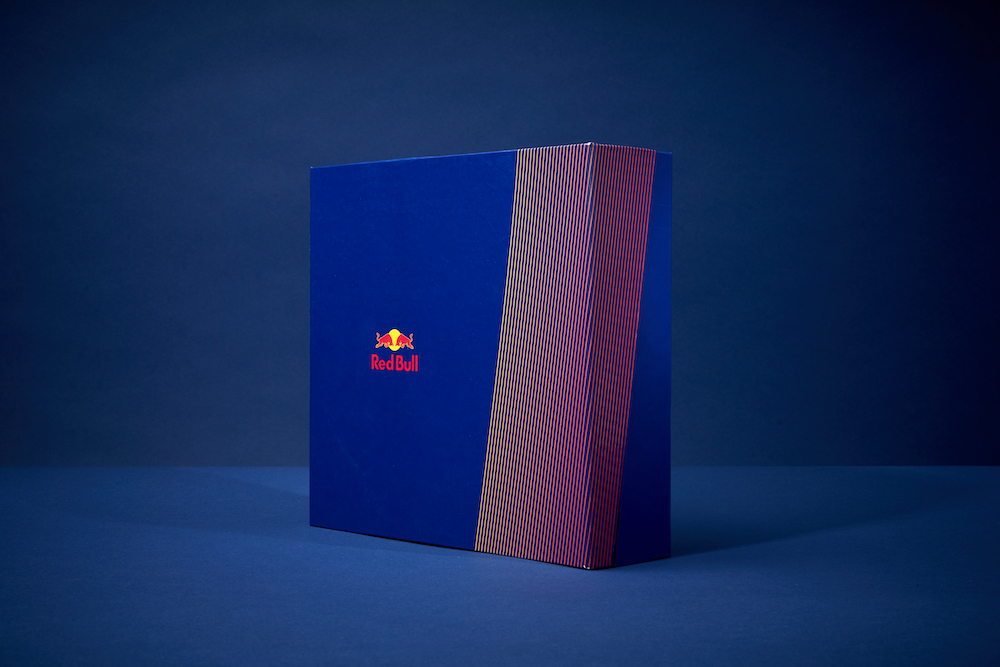 Luxury Box With Magnetic Close Lid
Rigid card boxes made with magnetic closure lids are one of the most luxury product boxes available. If you are looking for a fully bespoke box that you can design around your product then this could be the option for you. Print on the inside and outside in any colours and finish it with a high quality lamination.
We can also produce custom made bespoke inserts for the interior of the boxes. These can be made from a variety of materials including corrugated board, paperboard, rigid board and luxury foam.
If you're interested in these quality magnetic seal boxes then enquire with us today and get a quote.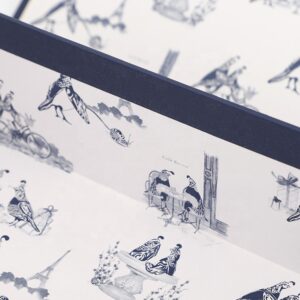 Interior Printing
Enhance your design with a printed pattern on the inside of your box. This results in a hugely pleasing reveal.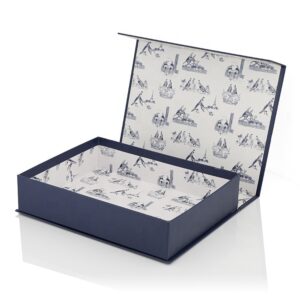 Luxury Rigid Board
Made from sturdy card and wrapped in luxury art-paper. A very premium retail box to show off your products in style.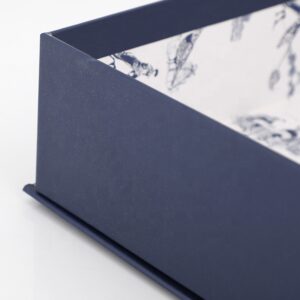 Snapshut Closure
Hidden magnets in the wraparound and the internal rigid box results in that satisfying snap closure. Add some magic to your packaging.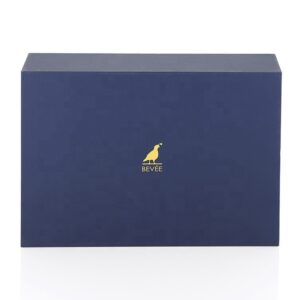 Premium Finishes
Why not enquire about foiling your logo to enhance the quality of your boxes? We can spot UV, emboss and deboss as well as foil.
Completely Bespoke Magnetic Closing Gift Boxes
Personalise Your Box However You Want.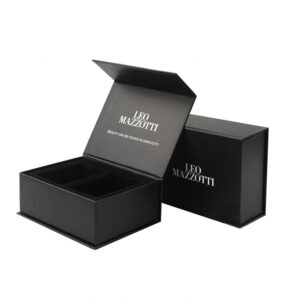 Magnetic Snap Shut Box
Whether you are using them for small items like jewellery and accessories, or as larger gift boxes, a magnetic flip lid top box is a great high option that will always impress.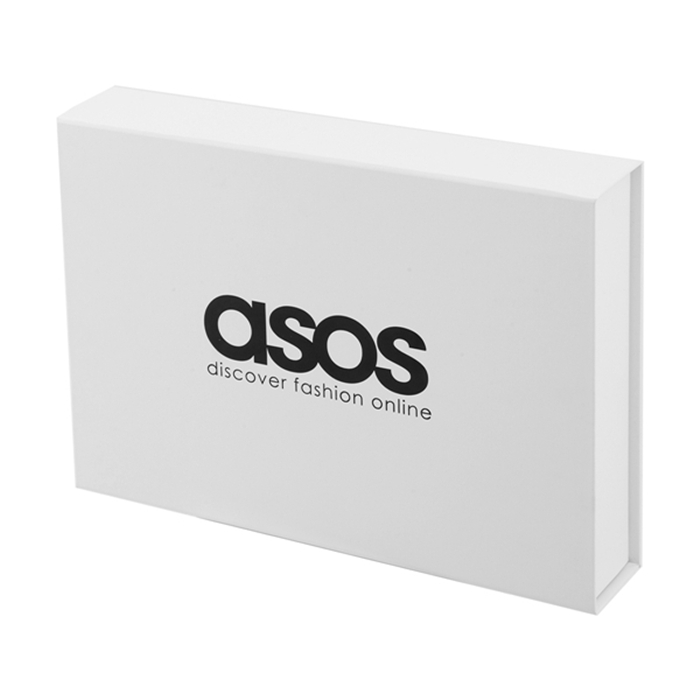 Premium Quality
We use thick rigid board as a base for our custom magnetic boxes. They are then wrapped in preprinted sheets of luxury art-paper which has the print or design on it to achieve the final product.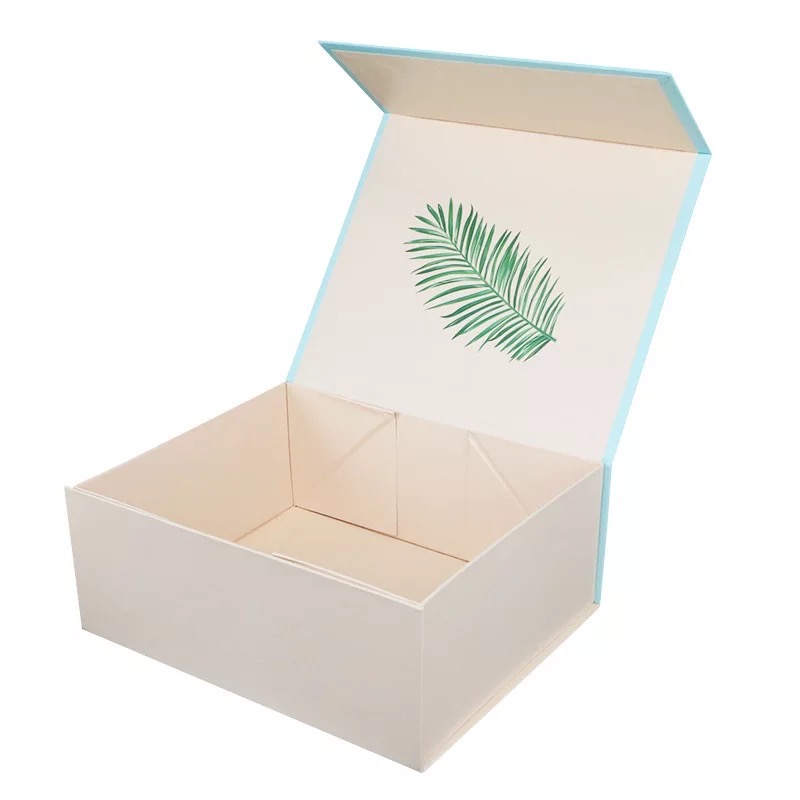 Flatpacked Option
If needed, we can supply flat packed magnetic seal boxes. These are delivered flat which is great for storage and they're quick to assemble using strong stickers between the rigid internal box and the wraparound.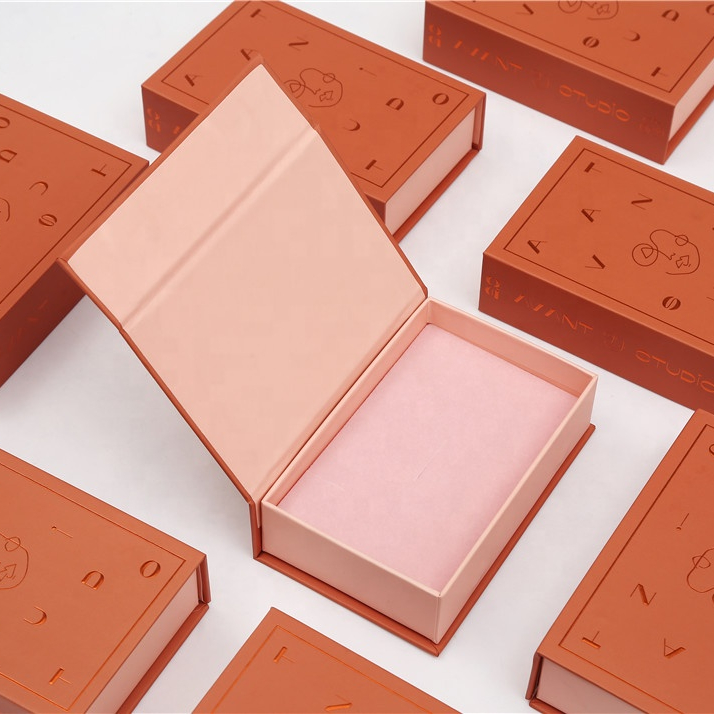 Printed Magnetic Closing Boxes
Printed Magnetic Close Boxes are one of our most popular and luxurious options for gift and retail packaging. We supply this type of presentation box for use in all types of industries from cosmetic to confectionary.
We make these boxes completely bespoke so you can have them made to any size, colour, finish and print design you like.
They can even come as a flat packed box which pops up, seals with peel and seal corners and snaps shut with the magnets on the front flap. The perfect option if you are short of storage space.
.
Like our other luxury box styles these magnetic gift boxes are made from a strong rigid board which is then covered in a range of high quality cover papers.
Whether you want a natural kraft finish, a smooth laminated art-paper or a premium textured paper, we have the option for you. Once you know the colour and finish you would prefer you can apply a print design or branding in many different ways. You can even print the inside of our magnetic close boxes with a block colour, pattern or a message.
All of our rigid board and cover papers are sustainably sourced and many are made from recycled materials. Whilst our custom magnetic boxes are the type of box someone would hold on to and reuse, these boxes are also 100% recyclable as well
Wholesale Magnetic Lid Boxes
Customise your magnetic gift box with something extra special. Print with hot foil, gloss UV varnish or even add a delightful ribbon bow.
We can also provide magnetic seal boxes with custom made inserts made from card, foam or both. So when you need to protect your product or present it in style then our expert team is the one for the job.
Printed tissue paper, ribbon and complement cards can be the perfect packaging partner for these premium boxes so don't forget to ask for these in your quotation.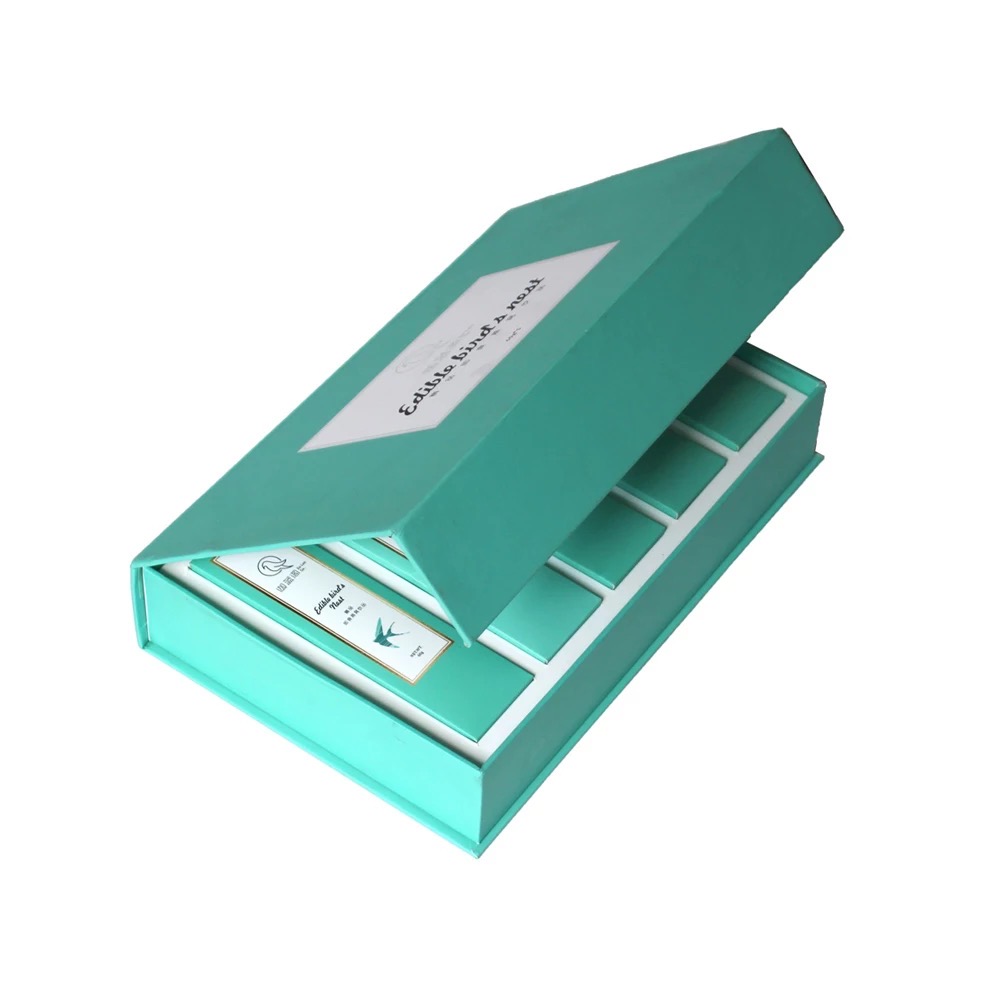 Examples Of Bespoke Magnetic Boxes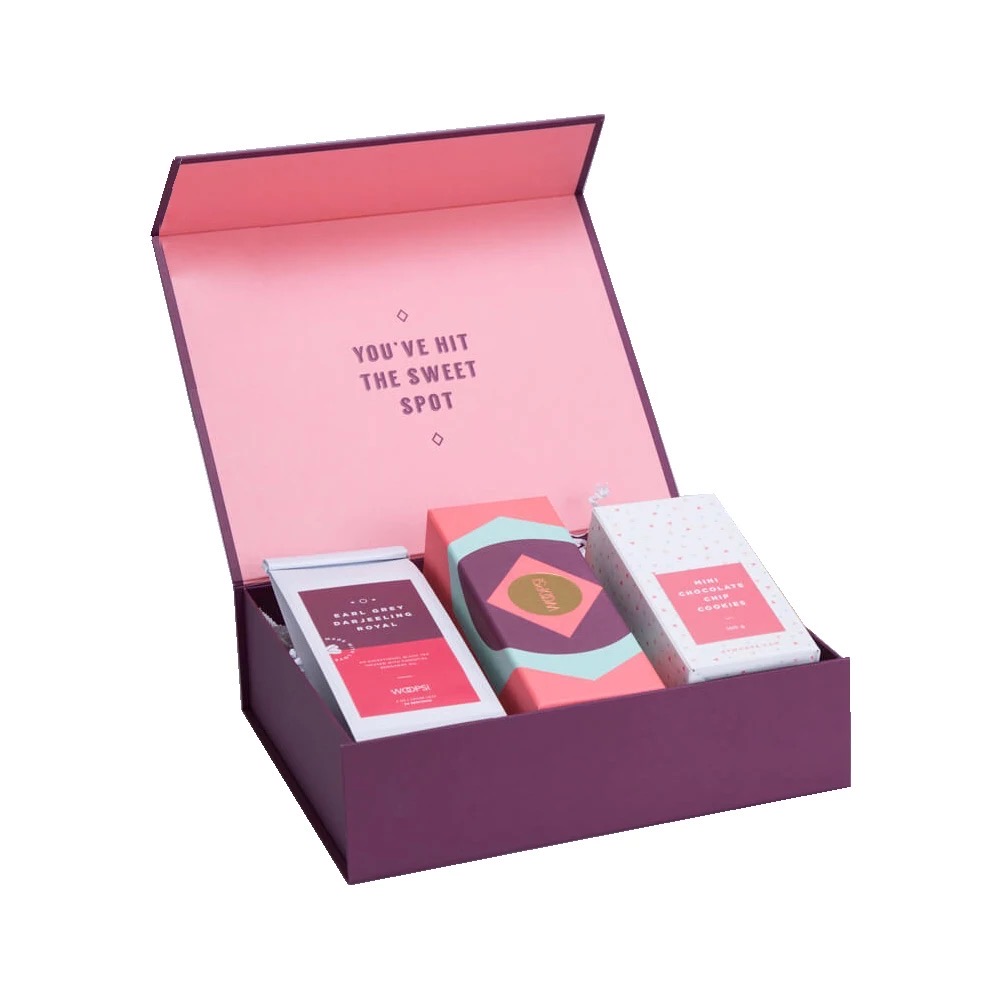 Magnetic Gift Box
This beautifully vibrant box was created to hold more custom boxes inside.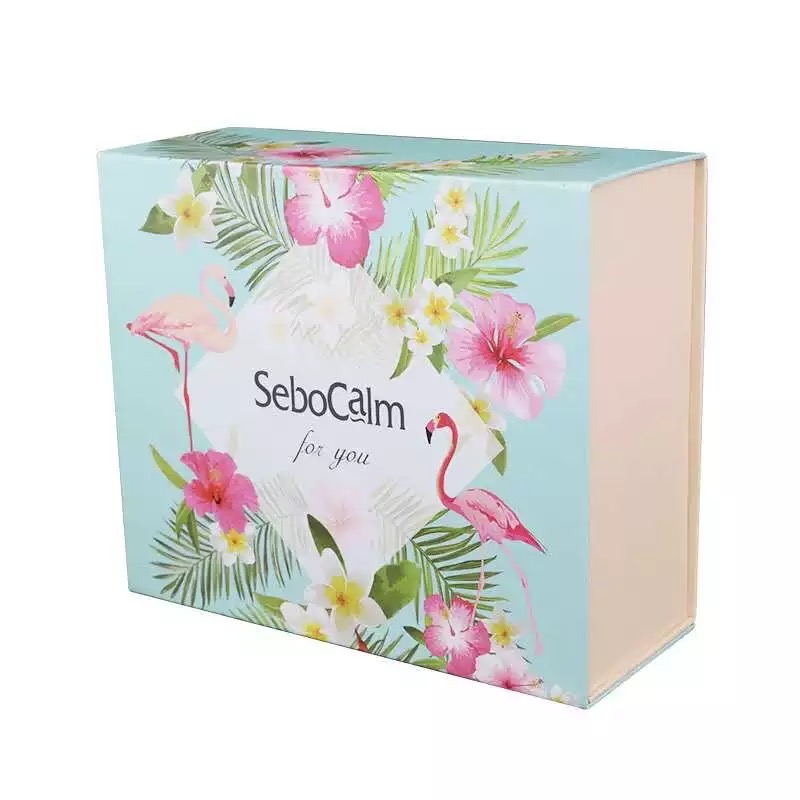 Full Colour Print
Another fantastic looking snap lid box with a tropical design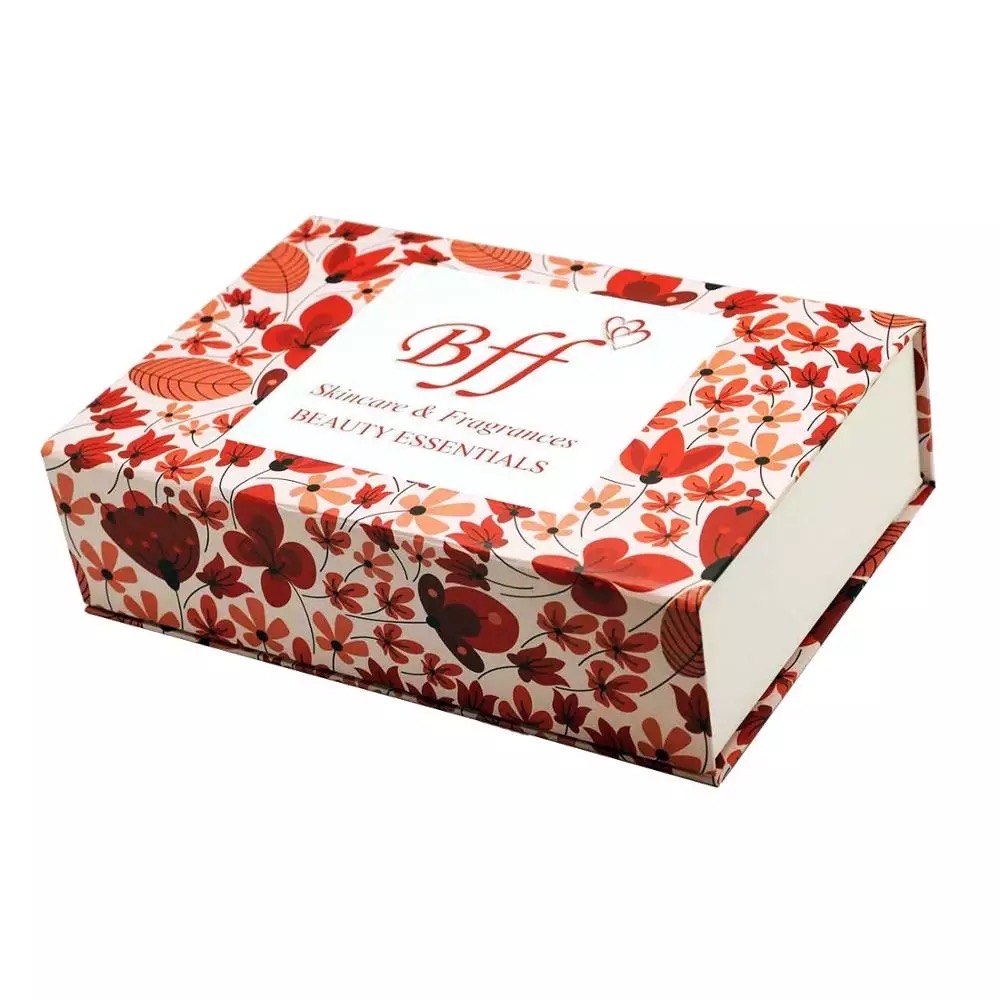 Patisserie Box
This one just makes us hungry! Patisserie boxes filled with goodies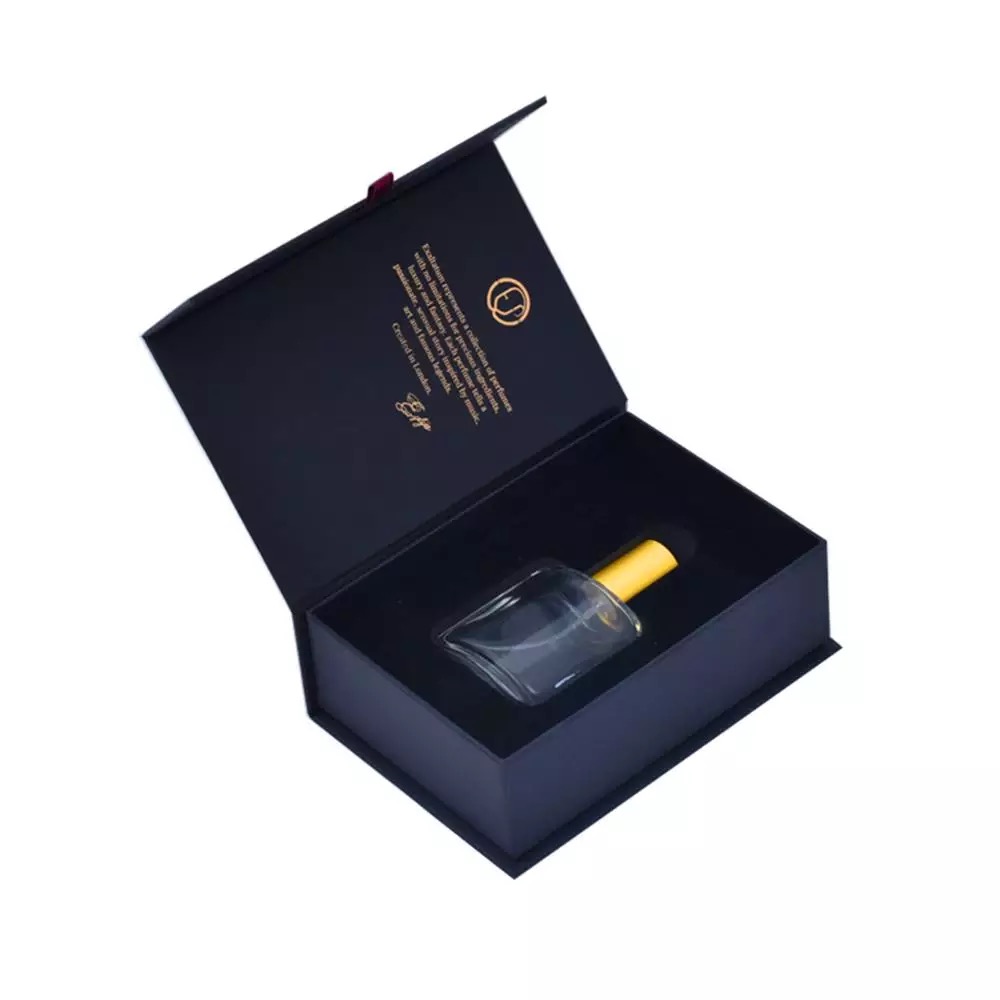 Fragrance Box
A superb way to elevate your products. This one includes a custom insert
Our Custom Magnetic Boxes Are Eco-Friendly
Recycled Materials
Primarily we use recycled materials for all our personalised magnetic lid boxes.
Bleed Resistant
Food safe inks can be used which are bleed resistant and suitable for all edible items.
Compostable
Uncoated magnetic lid boxes are fully compostable. Shred and keep in a composting environment.
Plastic Free
No plastic is used in the production of our custom snap shut boxes.
Recyclable
Once used our printed boxes are fully recyclable. Always check with your local authority first.
Bio Degradable
When left exposed in the correct environment, card boxes will break down into natural elements.

The quality is fantastic and delivery spot on. Will be ordering lots more from Comet Packing in the future, thank you for your exceptional service!

Great quality tissue per even at short notice. We had been looking for 30gsm for quite a while and had no luck. Thankfully Coment Packaging was very helpful!

Great quality products! Fast turnaround times, clear and helpful communication.
Reviews
See what our customers are saying

Flawless from start to finish. They are always on the other end of the phone when I have questions.

Always use Comet for my packaging. Never fail to impress

Always use Comet for my packaging. Never fail to impress
Quick Info
Frequently Asked Questions
Custom made so any size is possible within limits
Rigid card covered in thick art-paper
Pantone Printing, CMYK Printing, Metallic foil, Spot UV, Foam or paperboard Insert, Inside Printing, Ribbon Bow Closure, Embossing/De-bossing, Textured Paper, FSC Certified Paper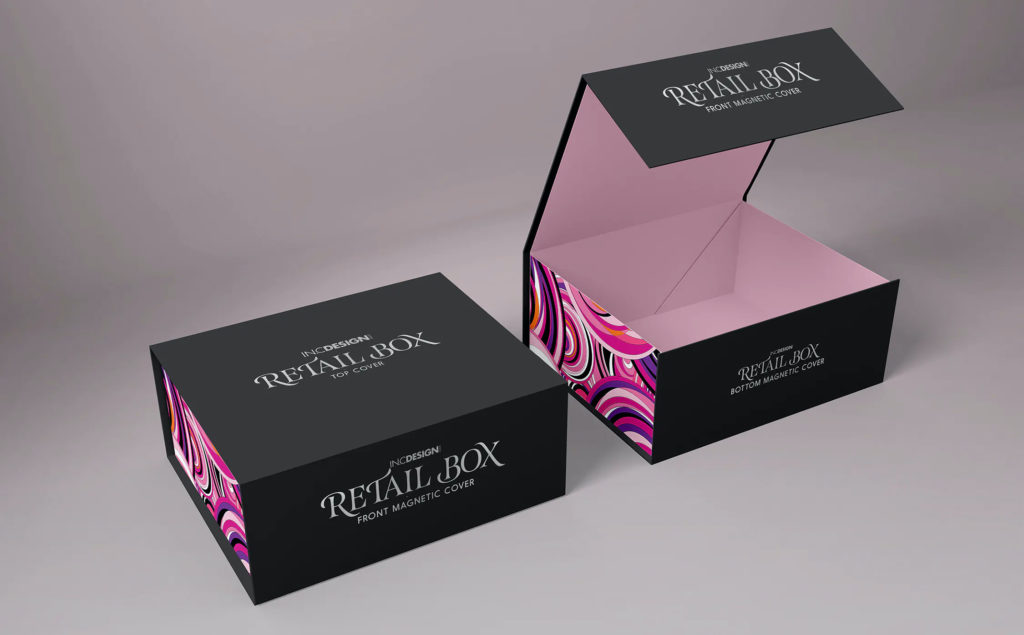 Rigid card boxes made with magnetic closure lids are one of the most luxury product boxes available. If you are looking for a fully bespoke box that you can design around your product then this could be the option for you. As a brand, it's important to make a great first impression and make your customers feel special. An elegant snap shut box is the ideal way to do this. It's the type of luxury box that creates a unique unboxing experience and gets people talking about your product. It's also a box that you won't want to throw away once you're done with it.
We can chip these boxes anywhere in the UK or Europe. Minimum orders start at just 250 units. If you are looking for market leading quality and prices then give us a try. We aim to help everyone who gets in contact with us, even if its just some advice on packaging and printing.
Magnetic Snap Shut Boxes – Created For Premium Retail Brands
If you are a retailer, product owner, marketing company or gift company then you have found your ideal packaging solution. The premium feel of flip top magnetic boxes make them the perfect solution for anyone wanting to showcase both their brand and products. Magnetic boxes take pride of place on any shelf and add value to any product. Regularly used to sell clothes, electronics and curated gifts. Because we make these boxes bespoke their size can be adjusted to suit your specific needs. If you want to add an extra touch of luxury then try out some printed tissue paper and stickers. Using custom tissue paper inside the box to pack it really helps enhance the superior feel of your brand while also making the customer feel like they are really special.
What makes magnetic closure boxes so special?
Magnetic flip top boxes are made from rigid cardboard which gives them their strength and structure. This is then wrapped in luxury paper which can be laminated with a matt or gloss lamination depending on the type of finish you require. The magnets are attached on the lid and the base so that it snaps closed when the two parts are close enough together. The box can be opened and closed multiple times without any wear or damage that might appear on other boxes that tuck or fold closed. The luxury feel of snap shut boxes means a lot of the time customers will keep them and use them for storage at home. This means your logo will always be visible to them, which is basically promoting your brand for free.
Customisable Magnetic Boxes
Everything about these boxes can be fully customised or personalised for how you need them. Print on the inside and outside in any colours and finish it with a high quality textured paper. We also offer textured and patterned paper that can be used all over the box to create a beautiful and unique final finish.
We have many years experience in helping our customers create their own bespoke magnetic lid boxes. Our dedicated team at Comet Packaging are at hand to guide you through the whole process. We can assist with the design, and every order that is placed we create a print ready artwork for you to approve. This is the best way to show what the final design will be and gives you a chance to make any alterations or amendments. Nothing ever goes to print before a customer approves of the final artwork.