This is the blog post everybody has been waiting for…. The ultimate guide to paper bags and the different variations available.
Paper bags are used by all sorts of different business types ranging from coffee shops to hardware stores to luxury high street brands. The type and style of paper bag used by a business will typically depend on the brand image they wish to portray but also the type of product the bags are being used for.
Most paper bag options are available in a range of shapes and sizes, the majority of which can be printed with a custom design or logo. Below you will find a useful list of handle types used on paper bags.
Twisted Handle Paper Bags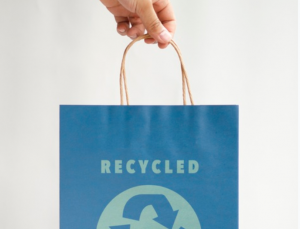 Paper bags with twisted paper handles are one of the most common paper bag styles you will see on the high street or in shopping centres. These cost-effective paper bags are typically made from a white or brown kraft paper and the handles are made from twisted paper creating a stiff cord like handle.
Twisted handle paper bags are made from recycled papers and are fully recyclable so they make a good eco-friendly choice. Available with full colour print designs and reinforced on the inside, these carrier bags are a popular choice for clothing and retail stores who want a quality paper bag at an affordable price.
Cost: ££
Strength: ★★★☆☆
Customisable Options: ★★★☆☆
---
Rope Handle Paper Bags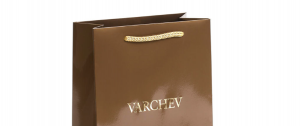 Paper bags with knotted rope handles is one of the most popular luxury shopping bag styles. The rope handles are available in a range of material options and colours. Cotton, polypropylene, and polyester would be some of the most common rope materials.
This style of paper bag can be customised in many different ways including a matte and gloss finish, and can be made in any shape and size. Rope handle paper bags cost more than the twisted handle variation but you will have a stronger and more luxurious bag.
This style is commonly used in clothing stores, boutiques and high end stores. This style of bag can also be produced with a large base so it can accommodate luxury cakes, desserts or even flower bouquets.
Cost: £££
Strength: ★★★★☆
Customisable Options: ★★★★★
---
Punched Out Handle Paper Bags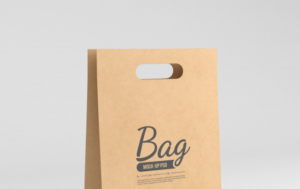 Also known as paper bags with die cut handles this less common style of paper bag is a strong and luxurious option. We can make these paper bags in custom sizes but be wary of the additional height required for where the hands will fit inside the bag itself. You should consider this when choosing sizes for the items going inside.
The handle area is typically reinforced with a strong card underneath the turnover top (the part of the bag that folds over on itself during production). This style of bag is made from a strong thick card and can be printed using a range of special finishes such as hot foil, gloss UV printing or laminations. This style of bag is a premium choice which is commonly used for wine bottle bags, luxury food and premium cosmetic brands.
Cost: £££
Strength: ★★★★★
Customisable Options: ★★★★☆
---
Ribbon Handle Paper Bags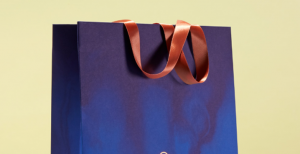 Probably the most luxurious paper carrier bag style is a ribbon handle paper bag. Technically they are very similar to the rope handle and punched out handle variations in terms of material, customisable options and special finishes.
The ribbon handles can be attached in different ways, either knotted through holes in the turnover top or inserted into the very top of the bag as pictured above. Ribbon handles are a great way to stand out and there is a lot to choose from in terms of widths, colours and material options. Some brands even opt for printed ribbon handles. Most ribbons can be printed with a logo or message before being attached to the bags. Perfect for the high end brands looking for the extra wow factor.
Cost: ££££
Strength: ★★★★☆
Customisable Options: ★★★★★
---
Flat Handle Paper Bags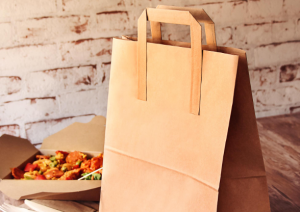 This style of paper bag is characterised by a paper tape handle which can either be fixed to the inside or outside of the bags. The bags are usually made from a thin white or brown kraft paper and they are most commonly used by takeaway establishments such as coffee or sandwich shops.
Flat handle paper bags are available in a range of sizes and shapes and they are a reasonably low cost carrier bag option. They can be easily printed with a simple design or logo but if you do require something a bit more special in terms of design then you may have to look at larger order quantities (5000 bags or more).
This style of paper carrier bag is great for keeping costs down and promoting your brand in a simple and eco-friendly way. Top tip: whilst these bags are generally strong enough for food items or small products, consider testing a sample bag to make sure your product is a suitable weight.
Cost: ££
Strength: ★★☆☆☆
Customisable Options: ★★☆☆☆
---
Handle-less Paper Bags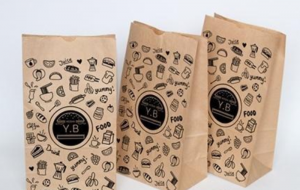 This one is quite self explanatory as the bags do not have any handle at all. Sometimes referred to as counter bags this carrier bag option is typically used in gift shops, promotional giveaways or by sandwich or food shops. They are made from thin brown or white kraft paper and can be printed with a design or logo. For more complicated designs or full colour printing you would typically require larger order volumes of 25,000 bags or more.
This is a cost effective bag to produce in bulk but if you are only looking for smaller quantities then you will be best keeping the design simple and sticking to one single print colour. For some food items you will want to consider using food safe paper or wax paper (greaseproof).
Cost: £
Strength: ★☆☆☆☆
Customisable Options: ★☆☆☆☆